Map Unavailable
Date/Time
Date(s) - February 7, 2021
3:00 pm - 5:00 pm
Categories
LA's #1 Intro to Wine Class, endorsed by The Los Angeles Times, CBS News, and 100,000+ students – NOW ONLINE via Zoom with WINE DELIVERED!
About Wine Camp: An Introduction to Wine™
History, anecdotes, and laughs all served in generous portions – over 100,000 students have attended Wine Camp since we started in 1995!
For thousands of years, people have made and enjoyed wine. If it's been around so long, why is it so difficult to Learn About Wine? Why is it so intimidating?
The good news is that you can take this class from anywhere!
For the foreseeable future, we will only be hosting this class virtually via ZOOM.
Here's why everyone should come to Wine Camp:
For thousands of years, people have made and enjoyed wine. If it's been around so long, why is it so difficult to Learn About Wine? Why is it so intimidating?
At wineLA, we know how to demystify this ancient beverage. Whether you're new to wine, or you're someone who wants to take your wine knowledge to the next level; Wine Camp is the perfect introductory class. We'll give you the confidence and foundation you need to explore the world of wine. Now with over 100,000 students attended – making this LA's #1 wine class, as recommended by the LA Times, Yelp, Where Magazine, and CBS.
This 2-hour wine experience is jam-packed with useful information. You'll learn how wine is made, improve your ability to describe wine, find out the best way to serve wine, and we'll even discuss food and wine pairings. At Wine Camp, you'll explore seven outstanding wines in a fun and relaxed setting. When you're finished, you'll be able to enjoy wine at a higher level and make confident purchases with your new, topical insights.
INCLUDED IN WINE CAMP:
How wine is made
Lessons on how to taste wine, and to describe what you taste.
How to pair food and wine.
How to serve wine: The do's and do nots!
Tips on reading labels, purchasing and storing wine.
Insider thoughts about emerging trends in wine that you'll want to know.
Answer any questions you may have – no matter how simple or difficult.
Laughter and enjoyment that only a top educator can provide
AND, of course: A guided tasting of seven great wines to help you acquire the skills you need to elevate your personal wine appreciation.
Our motto: "learning about wine is easier when the wines are great… so we serve really great wines"
Seven Wines!
WINE LIST EXPLORES CHARACTER – who, what, where, when, why…
Sauvignon Blanc, California – From a better growing region. Clean, crisp, pure, no MLF, little to no oak, varietal. Nose and mouth: grapefruit, melon, fig, citrus, floral, green pepper, dry, crisp, firm and clean.
Chardonnay, California – From a better producer. Better growing area, showing the potential of this grape variety. Baked and bruised apple and pear, orange flower, white peach, vanilla, toast, creamy, textured, buttery, rich, round finish – these are the classic characters we will explore.
Bourgogne Blanc, Burgundy – From a better producer. Smell of terroir: wet stone, wet earth, crisp apple, crisp pear, linear, refined, focused, high acidity, youth, lacks cream, lacks butter, remains tight and focused.
Pinot Noir, California – From a better appellation and producer. Shows pronounced character of better fruit with perfumed red cherry, fresh cut mushroom, brown spices like clove, better examples will have time in wood adding further density, concentration, and spice. Richer, rounder, fuller, velvety on palate, with elements of stem, seed, and skin (tannin, bitterness, and how that is expressed).
Merlot, California – From a better producer. Bold and dense, cherry, moca, clay, vanilla, softer than Cabernet, fewer pyrazines (bell pepper, vegetal), speaks to the place and soil its grown in. Allows for earlier access than Cabernet, softer and more forward in fruit and structure.
Cabernet, Napa Valley – From a solid producer. Napa when possible, to show the classic benchmarks – dusty cherry, cassis, eucalyptus, expensive spa like aromas (mint, eucalyptus, Vick's vapor rub). As price increases, so should density, depth and definition. Use of wood, use of blending grapes, flavor and concentration…explored.
Zinfandel, California – From a solid producer. Wide variety of styles and personalities. From ripe and jammy to dry and spicy. Tannins from bold and firm to soft and backed. Peppery and spicy to fruit, jam, confectionary sweet fruits. I believe better examples carry balance, and are not too ripe, where alcohol is not defining the mouth experience. We will discuss ripeness level, density, and style.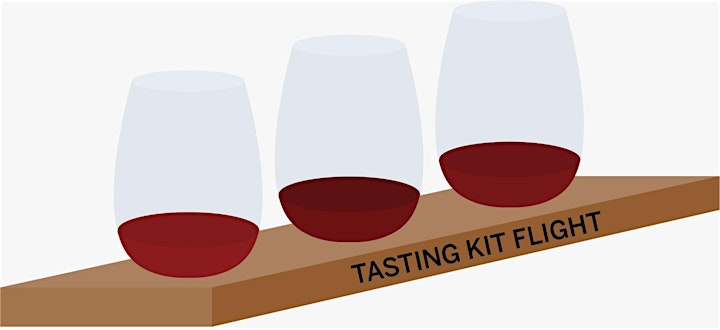 For the wine you have several options:
Tasting Flight or Bottle Kit via Pick up – from the Arts District, Los Angeles
Tasting Flight or Bottle Kit via Local Delivery/Shipping – within California
Bottle Kit via Shipping – outside of California, nationwide
The option to purchase the wines on your own – we'll email you the list of wines
Following the completion of this introduction to wine class, you will be provided with a discount code for future programs. We encourage everyone to start with this class and grow from here!


________________________________________________________________________________________________
________________________________________________________________________________________________ALL/ ANY TICKET SALE IS FINAL. WE DO NOT OFFER REFUNDS/ EXCHANGES/ TRANSFER BETWEEN PROGRAMS. Your ticket is transferable: pass your ticket on to family/ friends at your own discretion. Email us at: TLC@wineLA.com
ABOUT IAN BLACKBURN
Ian graduated from California Polytechnic University in Hospitality Management in 1991 (Distinguished Alumni 2008) and is a live-long crusader for wine and improving the wine lifestyle. In 1995, Ian pioneered the internet's first website dedicated to wine education and in 2020, he re-launches learnaboutwine.com to allow nationwide access to his passionate wine classes, tasting events and virtual tastings via Zoom. Ian's career has shifted from floor service, to distributor representative, to state manager for an international wine portfolio, to author, to internet wine pioneer and now Ian is a leader in Zoom-based wine classes and events. In 2009, Ian launched his own wine brand with Clay Mauritson dedicated to the world's best Zinfandel; Beekeeper Cellars continues to amass top scores (95-97 points) critical acclaim and professional praise. Ian has dedicated his life to fine wine and holds a number of credentials from the Society of Wine Educators, and continues his study with the Masters of Wine in London. Ian's first book was published in 2002 and he expects to publish a new book in 2021.
Since 2001, Ian has served as an official Educational Ambassador for the Regions of Champagne, France and The Napa Valley. Celebrating 25+ years in Wine Education, this new age of on line education played right into Ian's creative hands – contact info@learnaboutwine.com to hire Ian for your corporate event or private function. Also visit any of Ian's websites at:
www.zoomintowine.com
www.merchantofwine.com
www.wineLA.com
www.learnaboutwine.com
www.beekeepercellars.com
and more to come.