Map Unavailable
Date/Time
Date(s) - January 17, 2021
2:00 pm - 3:30 pm
Categories
Join us for a live, online, discussion & tasting of 3 wines from different regions of France: Sancerre, Chablis & Morgon!
Terrific Tastings: French Wine Road-trip
Sun, Jan 17, 2021
2-3:30pm (PST), 3-4:30pm (MST), 4-5:30pm (CST), 5-6:30pm (EST)
on Zoom
Join Culinary Host James Sokol and special guest Bob Sawicki for a virtual, metaphoric road-trip to three different wine regions in France – Sancerre, Chablis & Beaujolais! Learn about these small, family-owned wineries, about the wines themselves and, of course, enjoy a guided tasting of each.
If we can't take you to the French wine regions, let us bring them to you!
PLEASE NOTE: Tasting & Wine Collection tickets are available thru Sun, Jan 3rd., but early ordering helps us in planning!

The Online Tasting Event includes:
Overview of the French wine regions;
Review of how to read a French wine label;
Discussion of the specific growing regions (re: appellations) of the wines being tasted;
Live, guided tasting & discussion of each wine;
Cheese & food pairing recommendations; and
Fun banter with our Special Guest.
Come for the wines; stay for the fun!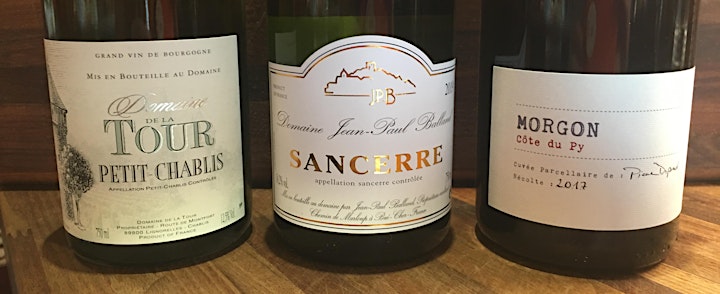 The Wines:
Begin our tasting journey 125 miles south of Paris in the Loire Valley where Jean-Paul & Magali Balland have continued the multi-generational family tradition of wine making on their estate in the Sancerre appellation.
Next, head 115 miles southeast of Paris toward Dijon to taste a Petit Chablis from Domaine de la Tour, which has been owned by the Chalmeau family for over 200 years!
Our final tasting stop is about 30 miles north of Lyon in the Beaujolais region of Burgundy to Domaine Pierre Dupond, where we will taste his single vineyard "Cote du Py", generally considered the single best vineyard in the commune of Morgon, and therefore in all of Cru Beaujolais.
Our Special Guest: Bob Sawicki
Owner & founder of the Tamalpais Wine Agency, Bob Sawicki (above left) has over 40 years of experience in the wine industry. His focus is on small, family-owned wineries, whose vintners farm sustainably, organically or bio-dynamically.

Tickets:
Tasting & Wine Collection ticket*
$93 for addresses in AK, AZ, CA, ID, NM, NV, OR, WA, WY.
$98 for addresses in DC, FL, ND, NE.
includes: 1) One bottle of each of the three wines mentioned above, 2) Discounted Tasting Event ticket for one device on Zoom, 3) Taxes, 4) Packing & shipping. Sales of these tickets close on Sun, Jan 3rd.
Tasting Only ticket* ($15) are available for those sharing a single wine collection with another person and want to attend the tasting separately, on a different device. Sales of these tickets closes at noon (PST) on Thu, Jan 14th.
*Ticket/Shipping Notes:
Birthday information is required for the purchase of alcohol/wine. Buyers must be at least 21 years of age.
Wine can be shipped only to a home or office address. Shipments cannot be delivered to post office boxes.
Please double-check that your address information is correct before submitting it.
For this event, unfortunately, shipping is available only to the following states: Alaska, Arizona, California, Florida, Idaho, Nebraska, Nevada, New Hampshire, New Mexico, North Dakota, Oregon, Washington-DC, Washington State, Wyoming.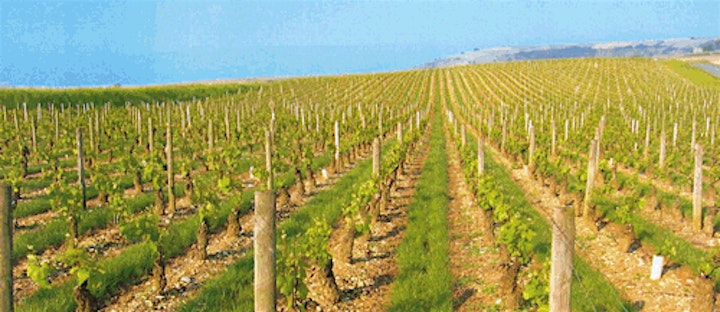 The Fine Print:
Fortunately, we've had very few issues, but just to be clear…
Getting Your Zoom "Event Link":
Event Registration: Whether or not already registered with a Zoom account, ticket buyers to this event will need to complete a Zoom event registration. The morning (PST) of the day prior to the event, an email with an event registration link will be emailed to all ticket buyers via Eventbrite. Tickets buyers must use the link to register (at no additional cost) for the actual Zoom event online and are encouraged to do so immediately upon receipt of the email. It's simple: one click, add your name & email, one more click – done!
Name & Email: The name & email used for the Eventbrite ticket purchase must be used for the Zoom event registration. Using a different name or email may prevent registration recognition and, therefore, prevent the buyer from entering the event.
Event Link: After submitting the Zoom event registration, Zoom will automatically send a unique link to the buyer to be used to join the virtual tasting.
Troubleshooting: We will do our best to remedy any issues. Ticket buyers who have completed Zoom event registration, but NOT received the Zoom event link should contact James (see below) before 4:00pm (PST) on the day prior to the event to allow proper time to find a solution.
Late Troubleshooting: We will try our best to – but cannot guarantee – help with Zoom event registration/links to guests contacting James after 4:00pm (PST) on the day prior to the event.
Live Only: In agreement with our guides, artists, instructors, special guests, etc., events are not recorded. Make-up sessions are unavailable. Credit/refund is not given for missed events.
Liability: While we will do our best to remedy any issues, The Osher Marin JCC & its Program Partners cannot be held responsible for 1) issues related to Eventbrite or Zoom, 2) ticket buyers not following the instructions above, nor 3) packing, shipping, or deliver services of food/beverages not received in time for tasting events.
Info Share: By purchasing a ticket, you consent to have your contact & shipping information shared with and used by our product partner's database.
Don't ya just hate "the fine print?!!"
Questions? Email James at jsokol@marinjcc.org.

Terrific Tastings are created by the Osher Marin JCC (San Rafael, CA) and offered by the National JCC Adult & Senior Alliance. See below for a full list of Alliance Partners.
ALL ARE WELCOME to join in our activities! JCC members, non-members, those who live near or far, people of all backgrounds, faiths, ethnicities, hair styles, fashion choices, chocolate preferences, etc. "The more the merrier!"