Date/Time
Date(s) - December 2, 2022
5:00 pm - 8:00 pm
Location
Grand Hyatt Erawan
Categories
Thailand's Biggest Wine Tasting Event. 160 Wines on Showcase. Meet global wine critic James Suckling and world-famous producers in person.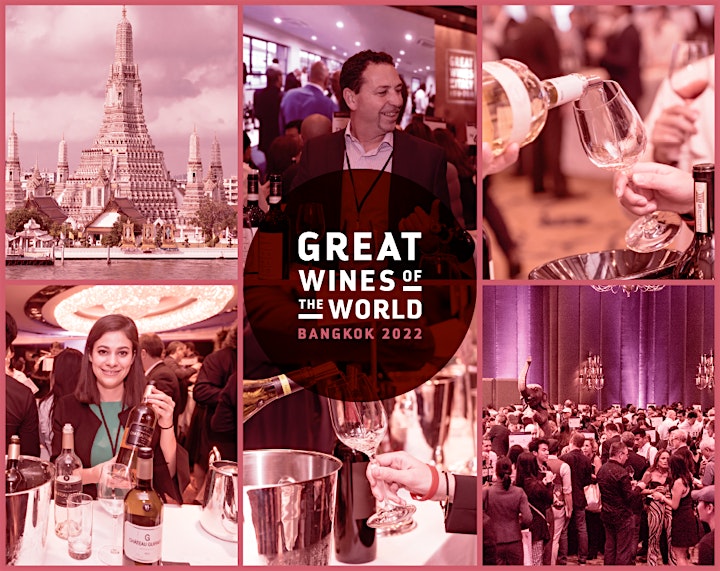 GREAT WINES OF THE WORLD
2022 BANGKOK GRAND TASTING
DECEMBER 2 (FRIDAY), 2022; 5 P.M. – 8 P.M.
GRAND HYATT ERAWAN HOTEL
____
James Suckling returns to Thailand with the very first edition of JamesSuckling.com's global flagship wine tasting event GREAT WINES OF THE WORLD – the largest premium annual wine tasting event for wine lovers and the industry in Thailand.
____
GREAT WINES OF THE WORLD 2022 GRAND TASTING BANGKOK will present an extraordinary, JamesSuckling.com-curated selection featuring more than 150 wines of some of the best producers from the top wine regions in the world  — all hand-picked by global wine critic James Suckling. Tour the world tasting top-scoring wines, all of which were rated at 90 points by JamesSuckling.com. Celebrated owners and winemakers from iconic wineries will be in attendance to share their valuable insights.
This is Thailand's most extraordinary wine event and a must-attend wine tasting for members of the wine industry and wine lovers to taste some of the most exciting wines currently made around the world – a true miss-it-miss-out opportunity.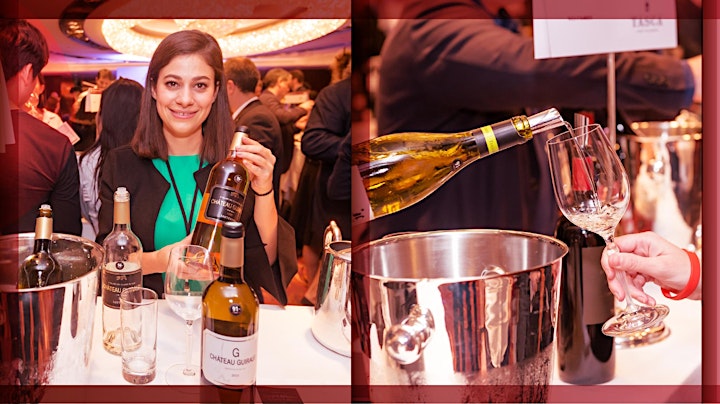 Grab your chance to taste the world's best wines with internationally acclaimed wine critic James Suckling! The tasting always sells out weeks in advance, so hurry and secure your tickets now.
+ Taste a hand-picked selection of 200+ wines from the world's most important wine regions
+ All wines scored minimum 90 points and higher (majority 95+ points)
+ Meet acclaimed wine critic James Suckling and world-famous producers in person
+ A delicious spread of Italian meats and cheese prepared by the Grand Hyatt Erawan's team
+ Rockin' tunes spun by award-winning music producer and artist Surahn Sidhu

Early bird tickets are on sale now at a special price of THB 1,200 (US$32) only (on or before November 1 4 or while stocks last; regular price THB 1,699 (US$ 58).
จองบัตรล่วงหน้าได้แล้วตอนนี้ในราคาพิเศษเพียง 1,200 บาท (US$32) 
(จองภายในวันที่ 14 พฤศจิกายน หรือจนกว่าตั๋วจะหมด ราคาปกติ 1,699 บาท (US$58)
**************************************************************
1-person entry: THB 1,200 EARLY BIRD / THB 1,699 Regular
2-person entry  ("2-Ticket Bundle Buy"): THB 2,160 EARLY BIRD / THB 3,100 Regular
**************************************************************
All members of the wine trade are invited to sign-up for the trade ticket and this applies to wine importers, distributors, retailers, restaurant owners, sommeliers, hotel and F&B directors, educators, and advisors. The Organizer will screen RSVPs and reserves the right to reject non-trade qualifying registrants.
ผู้ประกอบการภาคธุรกิจไวน์ รวมถึงผู้นำเข้าไวน์ ผู้จัดจำหน่าย ผู้ค้าปลีก เจ้าของร้านอาหาร ผู้เชี่ยวชาญด้านไวน์ ผู้อำนวยการโรงแรม ผู้อำนวยการฝ่ายอาหารและเครื่องดื่ม สามารถลงทะเบียนเข้าร่วมงานในส่วนสำหรับผู้ประกอบการ
**************************************************************
LIMITED SPACE PER SESSION. FIRST COME FIRST SERVED.
NOTE: TICKET HOLDER MUST BE OVER 18 YEARS OLD OF AGE AT DATE OF THE EVENT TO GAIN ACCESS TO THE TASTING FLOOR. ID REQUIRED.
หมายเหตุ: ผู้ถือบัตรต้องมีอายุมากกว่า 18 ปี ณ วันที่จัดงาน จึงจะเข้าไปในบริเวณพื้นที่ชิมไวน์ได้ ต้องแสดงบัตรประจำตัว

150+ WINES ON SHOWCASE
FRANCE Château Batailley, Château Bellegrave, Château Croix de Labrie, Château d'Issan, Château de Lamarque, Château Guiraud, Château Léoville Las Cases, Château Montlabert, Château Phélan Ségur, Château TrotteVieille, Dourthe, Gérard Bertrand, Paul Jaboulet Aîné
ITALY Argentiera, Argiano, Barone Ricasoli, Bibi Graetz, Brancaia, Cantina Terlan, Casale del Giglio, Castello Banfi, Castello di Bossi, Cecchi, Ceretto, Damilano, De Stefani, Eredi Fuligni, Fattoria Le Pupille, Feudi di San Gregorio, Feudo Maccari, Fontodi, Frescobaldi, Il Pollenza, Ipsus, Marchesi Antinori, Marchesi di Barolo, Masciarelli, Mazzei, Nals Malgreid, Nino Negri, Orma, Ornellaia, Petrolo, Piccini 1882, Pietradolce, Pio Cesare, Renieri, Rocca delle Macie, Ruffino, Tenuta Sette Ponti, Siro Pacenti, St. Michael Eppan, Tedeschi, Tenuta Fanti, Terlan, Tua Rita, Valdicava, Valiano, Velenosi, Viberti, Zenato
ARGENTINA Achaval-Ferrer, Argento, Catena Zapata, Kaiken, Zuccardi AUSTRALIA Torbreck CHILE Almaviva, Baron Philippe de Rothschild Chile, Bodegas Caro, Clos Apalta, Concha y Toro, Don Melchor, Emiliana, Los Vasco, Montes, Seña, Veramonte, VIK, Viña Morandé, Viña Tarapacá, Viu Manent SPAIN Marques de Caceres URUGUAY Bodega Garzón UNITED STATES Continuum, Daou, Patrimony, Quintessa
CHECK OUT OUR LAST EVENT!
JAMES AND THE PRODUCERS LOOK FORWARD TO SEEING YOU AT THE GRAND TASTING IN BANGKOK