Date/Time
Date(s) - November 17, 2022
5:00 pm - 7:00 pm
Location
Four Seasons Hotel
Categories
HONG KONG BIGGEST ITALIAN WINE TASTING, FEATURING TOP PRODUCERS AND LATEST RELEASES FROM ITALY, CURATED BY JAMESSUCKLING.COM
GREAT WINES OF ITALY
2022 GRAND TASTING
NOVEMBER 17 & 18, 2022
FOUR SEASONS HOTEL, H.K.
*Open to Importers/Distributors, Retailers, Wine Buyers, Sommeliers, Beverage Professionals, Educators and Media
____
ONE OF THE BIGGEST ITALY TASTINGS OF THE YEAR
200+ WINES TO TASTE (MOST ARE FIRST-TIME RELEASES IN H.K.)
A MUST-ATTEND FOR TRADE & INDUSTRY
____
Hong Kong's most loved and referenced Italian wine event is returning with a series of Grand Tastings organized over the course of two days at the Grand Ballroom of the Four Seasons Hotel in the heart of Central, Hong Kong.
The Trade & Industry Grand Tasting will present hundreds of top-rated wines, from famous Chiantis and Brunellos to amazing Super Tuscans, Barolos and Amarones, showing latest market releases. All of the producers and/or wines available to taste represent outstanding quality having achieved top scores of 92+ points by James Suckling and his team of tasters – with the majority rated at 95+ points – it is a tour de force of the best Italy has to offer.
Many of the featured producers made it on the 2021 JamesSuckling.com Top 100 Italian Wines of the Year list – you don't want to miss those! This is one of Hong Kong's best and most looked-forward to wine tasting events throughout the year, and a must-attend tasting for members of the wine industry.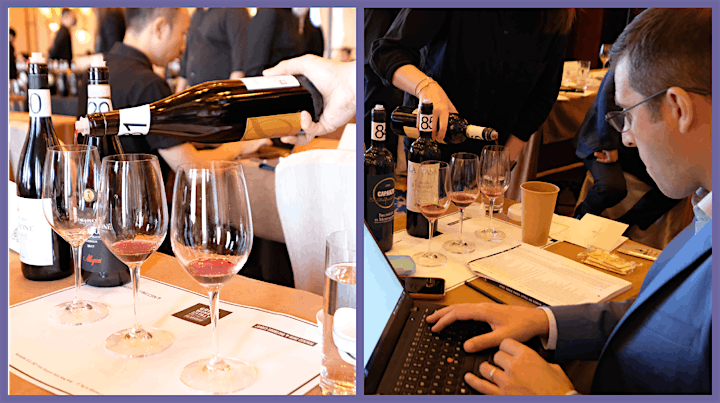 BOOK YOUR SPOT
2 DAYS: NOVEMBER 17 (THU) & NOVEMBER 18(FRI), 2022
@ FOUR SEASONS HOTEL, GRAND BALLROOM
Session 1: 11 am – 1 pm ( 2-hour tasting)
Session 2: 2 pm – 4 pm ( 2-hour tasting)
Session 3: 5 pm – 7 pm ( 2-hour tasting)
Seat Guarantee Fee: HK$ 100
*The Seat Guarantee Fee is AUTOMATICALLY REFUNDED to all attendees AFTER the event.
_____
LIMITED SPACE PER SESSION. FIRST COME FIRST SERVED.
ONLY SERIOUS RSVPs PLEASE! Do not block space.
We reserve the right to release seats / blacklist no-shows from future events.
Members of the wine trade are allowed to bring up to three (3) private clients with them. Please indicate at time of booking as "GUEST".
Two-session bookings are allowed should a single session be of insufficient time *only serious bookings*
Only tasters who fulfil all health policy requirements (see below) may participate.
****************************************
For all guesting and RSVP enquiries please contact Anne Krueger at ak@jamessuckling.com.
We recommend to arrive 10 minutes earlier for check-in and to maximize your tasting time.
****************************************
HEALTH & WELL-BEING AT THE TASTING
[!] Your safety is important to us
The format at the Four Seasons Grand Ballroom has been designed to ensure the health and well-being of all our attendees. All tasters will be seated and socially distanced. Face masks must be worn when not tasting.
Only tasters who have (1) 'BLUE CODE' on the Leave Home Safe Vaccination Pass and (2) present a photo showing a negative rapid antigen test result obtained within 24 hours prior to the tasting event can participate in the tasting and will be admitted. You are also required to scan the 'Leave Home Safe' app upon entry. The organizer reserves the right to deny entry to attendees who do not comply with this rule. 
****************************************
In the special event that you are unable to have the vaccine because of a medical condition, or for any other vaccination-related question, please contact us eventsAsia@jamessuckling.com.
****************************************

FEATURED PRODUCERS
ALTO ADIGE  Elena Walch, Nals Margreid, St. Michael-Eppan FRIULI-VENEZIA GIULIA  Collavini, Schiopetto, Masciarelli VENETO  Dal Cero, De Stefani, Follador, Nino Franco, Pasqua, Tedeschi, Tenuta Sant'Antonio, Tenuta Santa Maria di Gaetano Bertani, Zonin PIEDMONT  Arnaldo Rivera, Damilano, La Spinona, Lo Zoccolaio, Marziano Abbona, Ottosoldi, Paolo Manzone, Paolo Scavino, Parusso, Sordo Giovanni, Villa Sparina TUSCANY  Altesino, Argiano , Bibi Graetz, Bindi Sergardi, Bonacchi, Campo alla Sughera, Canalicchio di Sopra, Caparzo, Capezzana, Castellare di Castellina, Castelli del Grevepesa, Castello di Bossi, Castello di Meleto, Castello di Monsanto, Celestino Pecci, Cerbaia, Ciacci Piccolomini d'Aragona, Cortonesi, Donna Olga, Fanti, Fattoria Le Pupille, Felsina, Frescobaldi, Il Borro, Il Poggione, La Gerla, La Magia, Livio Sassetti, Maddalena Cordella, Monteverro, Orma, Ornellaia, Panizzi, Petrolo, Piancornello, Podernuovo a Palazzone, Poggio Argentiera, Querciabella, Renieri, Rocca delle Macie, Rocca di Frassinello, Ruffino, San Polino, Tenuta del Buonamico, Tenuta di Biserno, Tenuta di Nozzole, Tenute di Cabreo, Tua Rita, Uccelliera, Valdicava, Ventolaio, Villa Saletta, Volpaia MARCHE  Umani Ronchi      ABRUZZO  Lis Neris, Valle Reale    UMBRIA  Barberani CAMPANIA  Feudi di San Gregorio, Janare, La Guardiense SARDEGNA  Antichi Poderi Jerzu, Argiolas, Cantina Santadi, Pala SICILY  Cusumano, Donnafugata, Feudo Maccari, Piccini 1882, Tasca d'Almerita, Tornatore
CHECK OUT OUR LAST EVENT!
WE LOOK FORWARD TO SEEING YOU AT THE TASTING!