Date/Time
Date(s) - November 18, 2022
8:00 pm - 11:00 pm
Location
Four Seasons Hotel
Categories
A night not to miss for Italian Wine Lovers !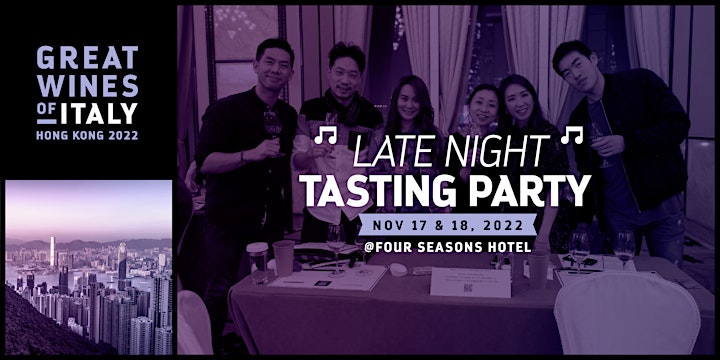 GREAT WINES OF ITALY:
'THE LATE NIGHT TASTING PARTY'
NOVEMBER 17 & NOVEMBER 18, 2022 (THU & FRI); 8PM – 10PM
@ FOUR SEASONS HOTEL, GRAND BALLROOM
____
ATTENTION ALL WINE LOVERS!
HONG KONG'S MOST LOVED ITALIAN WINE TASTING SOIREE IS BACK.
Join us for a 2-hour Tasting Party featuring a JamesSuckling.com curated selection of Italian wines exploring the variety and diversity of Italy: from the mountainous region in the North, to fabulous reds from the South, and of course, everyone's most loved region Tuscany and many more!
The line-up is a shortlist selection of 100 wines from the Grand Tasting focusing on boutique wineries and up-and-coming producers, especially ready-to-drink wines. Wines will be tasted seated and served à-la-carte at your table. Rockin' tunes will be provided too, guaranteeing a great night out!
SIP AND SAVOUR BEAUTIFUL ITALIAN WINES WHILST ENJOYING A NIGHT OUT WITH FRIENDS AT THE FOUR SEASONS GRAND BALLROOM!

Space is limited and these events always fully book weeks in advance, so hurry and secure your ticket  now!
+ 100 wines available to taste
+ All wines reached top scores of minimum of JS92 points or above
+ SAVE with our special Early Bird ticket offer at just HK$ 299 per person on or before October 30, 2022
************************************************
For inquiries, contact our team at eventsAsia@jamessuckling.com !
************************************************

HEALTH & WELL-BEING AT THE LATE NIGHT TASTING PARTY
[!] Your safety is important to us
The format at the Four Seasons Grand Ballroom has been designed to ensure the health and well-being of all our attendees. All tasters will be seated and socially distanced. Face masks must be worn when not tasting.
Only tasters who have (1) 'BLUE CODE' on the Leave Home Safe Vaccination Pass and (2) present a photo showing a negative rapid antigen test result obtained within 24 hours prior to the tasting event can participate in the tasting and will be admitted. You are also required to scan the 'Leave Home Safe' app upon entry. The organizer reserves the right to deny entry to attendees who do not comply with this rule. 
****************************************
In the special event that you are unable to have the vaccine because of a medical condition, or for any other vaccination-related question, please contact us eventsAsia@jamessuckling.com.
****************************************
CHECK OUT OUR LAST EVENT!

_______
WE LOOK FORWARD TO SEEING YOU!