Map Unavailable
Date/Time
Date(s) - August 20, 2020 - August 22, 2020
6:00 pm - 9:30 pm
Categories
Streaming, Sipping and Sensory – Registration Now Open!
Bourbon Women's Online SIP SUMMER SERIES – August 20 – 22
We are kicking off Women's Equality Week with a 3-day FREE digital conference! A top-shelf collection of spirits education right at your fingertips! This first ever and distinctively curated online series will keep you sipping with fellow Bourbon Women this summer! During this weekend you will experience unique tastings, mixology, food pairings, interviews and informative and engaging segments with industry experts that include live Q&A, all from the comfort of your own home!
Our 2020 SIP Summer Series finale coincides with Women's Equality Week, celebrating the 100th anniversary of the 19th Amendment granting women the right to vote. Bourbon expert Fred Minnick, author of "Whiskey Women: The Untold Story of How Women Saved Bourbon, Scotch, and Irish Whiskey," will produce the event and live stream to all channels.
Online Sessions 6:00PM to 9:30PM EST daily (August 20 – 22) – with live Q&A. (Links will be emailed after you register.)
FULL WEEKEND DIGITAL CONFERENCE TICKET
Free Admission
Please click the Select a Date button and choose any date to register. You will automatically be registered for all 3 days of the conference workshops.
Must be 21 to participate | Please sip responsibly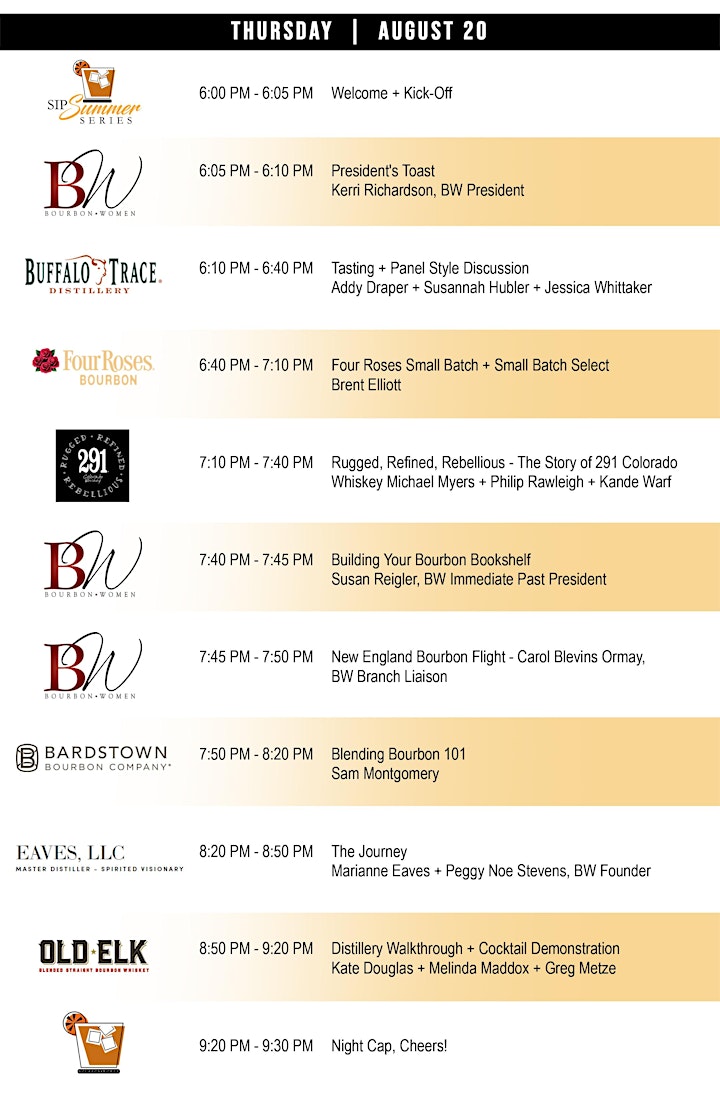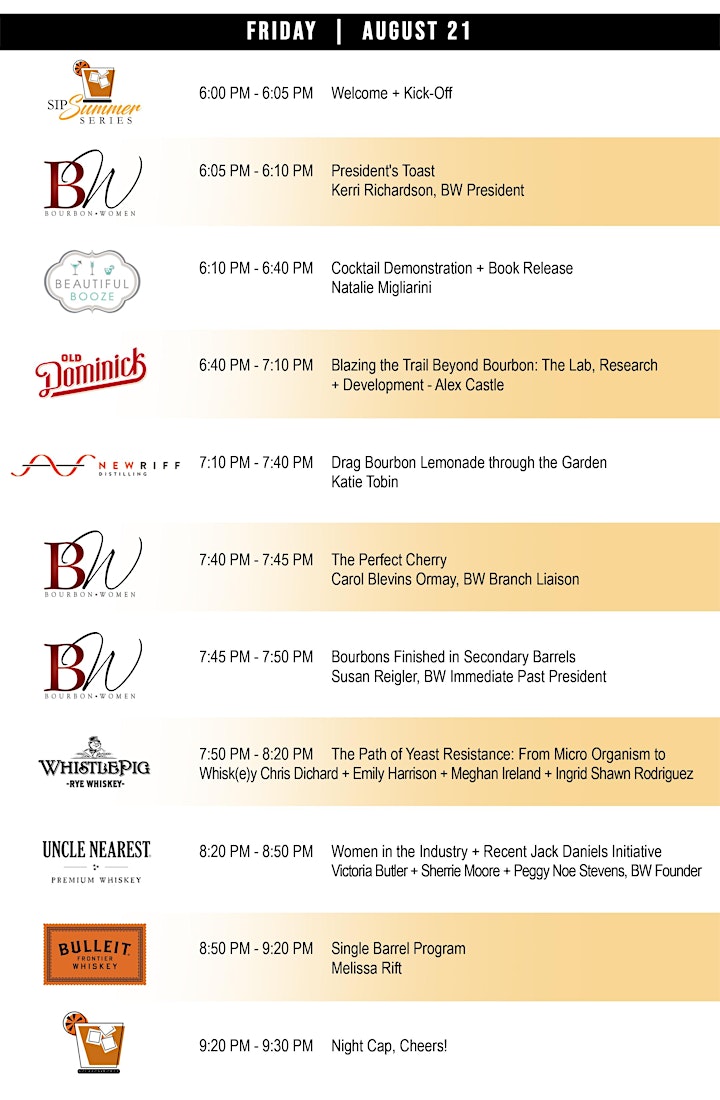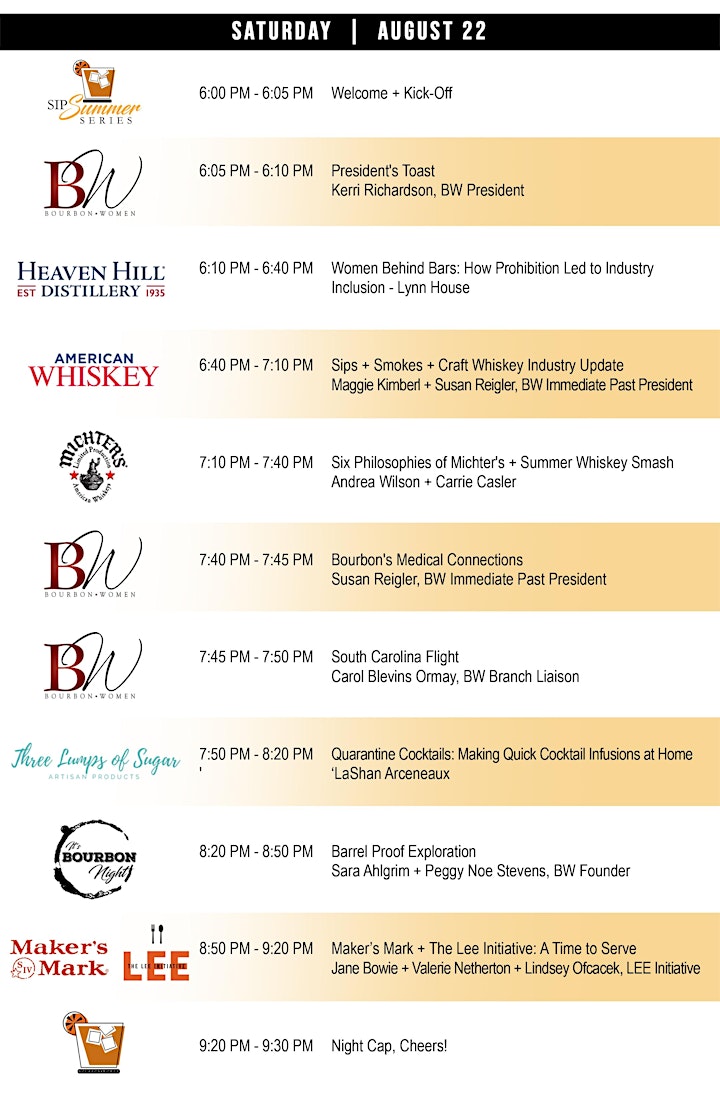 LUX ROW VIRTUAL TASTING EVENT – SOLD OUT
In addition to our amazing conference sessions you can taste alongside John Rempe, Lux Row Master Distiller in an exclusive tasting experience of Daviess County Bourbon.
Limited to 25 Participants! Tickets include a Lux Row Tasting Kit: 1 bottle of Daviess County Kentucky Straight Bourbon, 1 bottle of Daviess County Cabernet Sauvignon Finish and 1 bottle of French Oak cask finish.
John Rempe and Michele Lux, Creative Director of Lux Row Distillers will provide a virtual tasting experience from the historic stone home on Lux Row property.
Virtual Tasting: Saturday, August 22 – 1:00PM to 2:00PM EST. (Link will be emailed after you register)
Must be 21 to participate | Please sip responsibly

Stand with Bourbon Women and their mission to educate, mentor and celebrate the spirited nature of women who enjoy their Bourbon. When you support Bourbon Women you invest in like-minded individuals already raising their glasses to women in the industry and as loyal consumers. Your support means the world–Cheers!
Click HERE to help support Bourbon Women.


Plus, you can take part in our first ever E-AUCTION of one-of-a-kind bourbon items and experiences. Sign up and details launching soon–stay tuned!